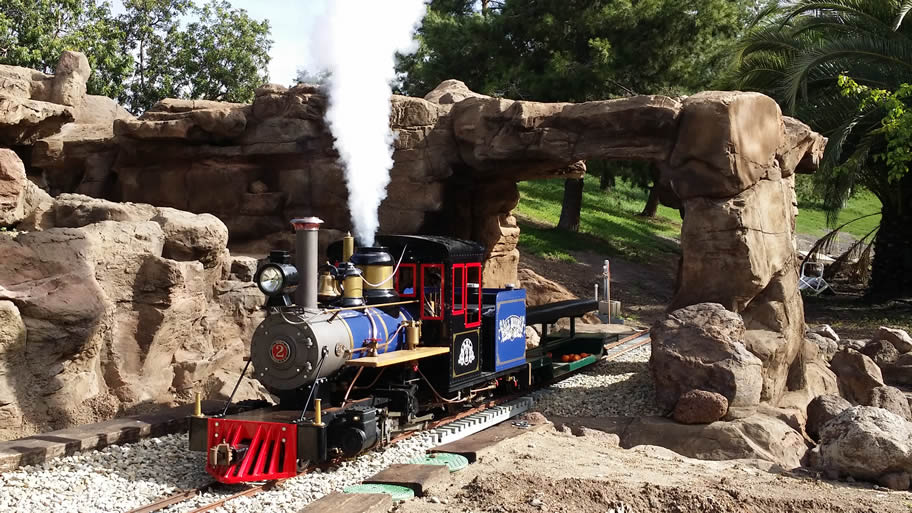 Welcome to the World of Large-Scale Model Railroading
Here at Real Trains, we manufacturer model railroad equipment that is big enough for you to ride on. While some of our products are used by businesses that haul passengers commercially, most of our customers are hobbyists who build and operate highly detailed scale models and layouts for their own enjoyment.
Our accurate models are found in many major museums and amusement parks around the world. Recent advances in manufacturing equipment now make these products more affordable than ever before. There are also clubs in most areas of the world that allow you to share both the enjoyment and the expenses.
Real Trains products range in scale from one-eighth size to as large as almost half size. Our designs follow the dimensions and details of the original prototype with changes only where absolutely necessary to make a safe and enjoyable model. All design work is performed by professionals using the latest state-of-the-art computers and software. Manufacturing is done on advanced, computerized machine tools that provide a level of detail and accuracy that is unavailable any other way.
Our train sets and other assembled products are sent to you ready to use, requiring only minimal setup work made necessary by shipping requirements. We use the latest finishing technologies to provide you with good-looking, completely finished products. Some products are also offered as kits, rough or semi-finished parts, or other items that require additional work before use.
To maximize your enjoyment of this special hobby, we take extra care to make all of our products as trouble free as possible. Materials, designs, and components are all selected to maximize their operating life while minimizing maintenance requirements.
We use only new, industrial-grade, standard components — never surplus items or parts adapted for something they were not intended for by their manufacturer. You will also find that safety is designed into all of our items. Powered components are supplied with key-operated switches, guards, and other protection to the maximum extent possible. To ensure your enjoyment and safety as well as to help you better understand our products, they are all furnished with owner's manuals, specifications, drawings, parts lists, and other materials as appropriate.